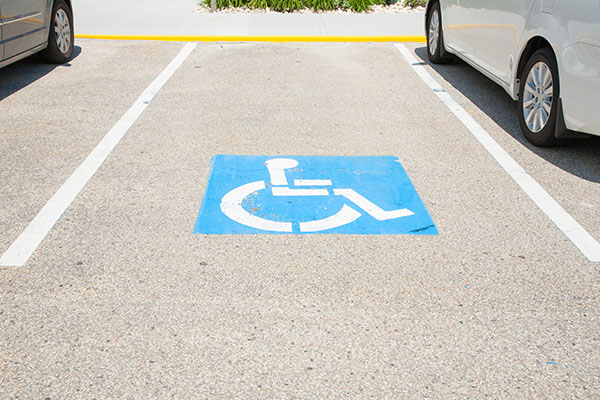 Disability & Accessibility Lawyers
Congress passed the ADA on July 26, 1990 with a ceremonial signing at the White House in Washington, D.C. The ADA's passage was the culmination of a lengthy battle fought and won over many years.  Courageous individuals with disabilities—as well as parents and advocates of children with disabilities—began to demand change, equality, and inclusion.  Unfortunately, despite tremendous strides, the fight continues today for all disabled individuals who deserve equal access and opportunities.
The ADA defines a disability as "a physical or mental impairment that substantially limit one or more of the major life activities of such individual," and the ADA classifies individuals with a disability as a protected class under civil rights law.  To that end, the Americans with Disabilities Act ensures legal protection preventing discrimination in 4 major areas: 1) employment; 2) housing; 3) transportation; and 4) public accommodations. The Disability & Accessibility Lawyers at Swift Law PLLC are committed to fighting for these important rights for our clients with disabilities, as everyone deserves to live free from discrimination.  
In addition to outlining the protected rights of individuals with disabilities, the Americans with Disabilities Act also prohibits certain conduct.  The combination of these rights and prohibitions outlined in the ADA provides the framework for recourse through civil litigation.  Common ADA violations include:
Employment Law
Under the ADA, public and private employers must not discriminate against individuals with disabilities including the following employment areas:
The hiring process;
Work assignments;
Performance evaluations;
Promotions; and
Terminations.
Housing Law
Under the ADA, individuals with disabilities cannot be discriminated against in the following areas related to housing:
Sale or rental transactions;
Onsite services, programs and activities offered to residents; and
Design flaws that make areas inaccessible and/or unusable for individuals with disabilities.
Accessibility

Transportation Law
Under the ADA, public transportation must be reliable and accessible to disabled passengers including:
Ramps;
Handicapped seating;
Public transportation must be free from behavior that discourages use by individuals with disabilities; and
No additional fares or handicap fees may be charged for public transportation use by individuals with disabilities. 
Public Accommodations Law
Under the ADA, public accommodations include profit and not-for- profit businesses in certain industry categories that must provide full and equal access and enjoyment of the goods, services, and benefits they offer to the public.  Common ADA violations in public accommodations may be found in the following industries, businesses, or locations:
Resorts, hotels, and motels;
Restaurants and bars;
Parking lots;
Theaters, arenas, auditoriums, parks, zoos, pools, and golf courses;
Shopping centers, stores, pharmacies, and malls;
Service industries like banks, salons, hospitals, gyms, spas, offices, and gas stations;
Libraries, museums, and galleries;
Schools (e.g., pre-schools, colleges, and trade or technical schools); and
Social services agencies including senior centers, homeless shelters, government benefits, and food banks.
Generally, all areas open to the public must be accessible to individuals with disabilities.  Common ADA violations include:
Impeded sidewalks, walkways, problematic elevators and escalators;
Unequal access to restaurants and bars;
Failure to install handicapped ramps;
Lack of handrails;
Lack of designated and required handicapped parking spaces;
Inadequate handicap restroom accommodations; and
High pile carpeting that impedes wheelchair or walker maneuverability.
Unfortunately, a substantial number of businesses and employers in Florida do not comply with the Americans with Disabilities Act.
St. Petersburg Lawyers Standing By
Swift Law PLLC is dedicated to ensuring that these crucial civil rights are not ignored, and we want to hear from you if you encounter situations where employers and businesses fall short in the ADA areas listed above. Swift Law will work diligently and passionately on your behalf, and in most cases, we will take your ADA case on a contingency-fee basis. Contact Swift Law PLLC for a free consultation by calling (727) 490-9919 or by filling out a free case evaluation form here.